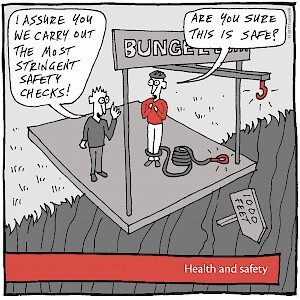 A West Sussex local authority has been censured by the Regulator of Social Housing for failing to assess fire and legionella risks in properties it is responsible for maintaining.
In the regulatory notice, the UK's Regulator of Social Housing revealed Arun District Council did not have a programme of fire risk assessments for its high rise buildings until 2016. It had previously only carried out assessments where issues were reported.
"This means that Arun District Council cannot provide assurance that all of the relevant properties had a risk assessment in place until very recently," it said.
It added that although the council has since risk assessed its entire property portfolio, it has not acted on the issues raised in those assessments.
Arun has also been criticised over water safety. As with fire safety, the council was only operating a reactive system of risk assessments, failing to identify and assess the risks of exposure to the bacteria Legionella.
Due to the seriousness of these issues and the lack of urgency to address them, the regulator concluded that Arun had breached part 1.2 of the Home Standard "and caused the potential for serious detriment to [its] tenants".
The regulator said it will now "work with Arun as it seeks to remedy this breach" while it considers whether to take any enforcement action.
In May the results of an external review commissioned by the council reported that there were "significant weaknesses" in its safety and health management system.
"Although there is now a programme of works in place to resolve the issues relating to fire and water safety, the regulator also noted that Arun District Council had not previously addressed these issues at a speed which would reflect the level of risk to its tenants. Taking into account the seriousness of the issues and the durations involved, the regulator has determined that it is proportionate to find a breach of the Home Standard in this case," the regulatory notice says.
It continues: "Both fire safety and water safety are self-evidently important because of the potential for serious harm to tenants. In this case, the regulator has concluded that the risk of serious harm is demonstrated because of the large number of tenants potentially exposed to an unknown risk of danger over a long period of time. Therefore, the risk of serious detriment existed."
An Arun District Council Spokesperson told IOSH Magazine: "Arun District Council has been notified by the Regulator of Social housing that it breached the regulator's Home Standard in relation to fire safety and water safety".
"As soon as the council became aware of the historic issues in relation to fire risk and legionella we have been working to address these as a matter of urgency. We are now in possession of a full and detailed suite of fire risk assessments and a programme of works formulated to ensure that the actions identified in respect of both fire risk and legionella are undertaken as our priority. We have purchased a new IT system to help us manage the ongoing work and an improvement plan is in place and progress is being made".
"Arun District Council recognises the seriousness of the situation and can assure residents that we are continuing to work with the regulator to provide documentary evidence that the breach is being rectified and that our ongoing commitment to the safety of residents is paramount".
In order to prevent similar cases occurring in the future, risk assessments should be carried out and acted upon promptly at all working environments. Health and safety advice should be sought if needed to ensure that the necessary measures are put in place as well as ensuring that employees have received sufficient relevant training.
Come along to our Health and Safety in a Nutshell training on 5th February 2018 in Leeds and understand your main requirements for health and safety. To find out more information, please click here.
If you have any queries regarding our training workshop, health and safety in your workplace or relating to any other areas of HR, please do not hesitate to get in touch with one of the team on 01924 827869.
References: https://www.ioshmagazine.com/article/district-council-censured-over-fire-safety-failures-and-legionnaires-risk