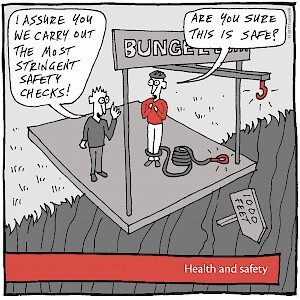 According to the HSE a competent person is:
"someone who has the necessary skills, experience and knowledge to manage health and safety"
As an employer, you must appoint a 'competent person' to help you meet your health and safety duties.
Some Health and Safety law describes the actual training, skills and experience, that someone should have to be a competent person in a particular industry or work environment. You should check with the HSE before appointing your competent person. You can access some of the industry specific competence required on this link.
The 'Competent Person' is responsible for advice on overall strategies for health, safety and welfare within the organisation.
Who could they be?
You could appoint (one or a combination of):
yourself
one or more of your workers
someone from outside your organisation
What must they do?
At unit level, they will provide advice to the organisation as required in particular:
a) Advice on interpretation of legal requirements.
b) Assistance with strategy for implementation of the policy
c) Provide investigations of serious accidents
d) Revise the policy in the light of experience or legal change.
e) Advice upon the visit of an Enforcement Officer.
What do you need to ask yourself when appointing a competent person?
Do they have the necessary training to cover all aspects of risk within our organisation? If not what training is required?
Will the person be able to communicate the necessary information to staff across the organisation?
Will they be able to be approached for information on how to handle key situations?
Are they organised in terms of adhering to regulations and keeping the necessary paperwork?
Do they need any specialist knowledge to manage your organisation's health and safety? Are there any specialist requirements?
Are they able to be supported with the necessary material and policies to meet your health and safety requirements?
Do you need to outsource your competent person?
If the answer to the last question is yes, then we can help. Outsourcing your competent person can remove the hassle and responsibility from your organisation. Appointing a fully qualified competent person to act on your behalf means necessary literature can be provided, training will already have been done and their experience can provide a knowledgeable sounding board for any issues. They can help you communicate the necessary requirements to your staff as well as helping you to carry out Risk Assessments or even doing them for you.
We provide the competent person provision as part of our Health and Safety service. This means we act as your Competent Person under "The Management of Health and Safety at Work Regulations 1999" (regulation7), so you don't have to worry about a thing. We also provide unlimited telephone advice, dedicated health and safety and employment law consultants, annual inspections and all the necessary documentation. To arrange a no-obligation visit just give our team a call on 01924 827869.