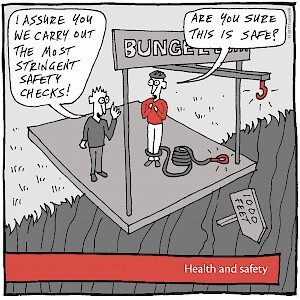 As reported by The Health and Safety Executive (HSE) in a recent press release, a warning has been issued to schools about scientific equipment that may contain asbestos.
The HSE has identified that Bunsen burner gauzes with asbestos-containing centres and have been supplied to schools by two suppliers. The Department of Education have written to schools advising that any gauzes dating back to 1976 should not be used until safety can be identified.
The HSE have said that they are unable to name the suppliers due to ongoing legal process and it is not yet clear how many pieces of equipment are affected. The material contains tremolite which is a rare type of asbestos
The HSE have said;
"Any gauzes that contain asbestos should not be used, and they must be safely disposed of as asbestos waste. As a precaution, if you are unclear as to what any gauze coating is made of then you should assume that it contains asbestos and follow the instructions."
The HSE's advice on the level of risk (Quoted from the HSE)
Analysis of the gauze material by HSE has identified that it is fibrous in nature and contains some asbestos, which is a known hazardous substance. Any risk from asbestos depends on the extent of asbestos fibre release and inhalation of these very fine fibres.
The risk from asbestos in the gauze material from normal tripod use will generally be extremely low for several reasons including the following:
the material is predominantly non-asbestos
there is very limited physical contact with the material during use (eg essentially placing items on top)
any contact is light and momentary
As a result, any free fibre release into the air will be minimal for normal use. However, the material is soft and crumbly and some small particles or fragments may detach on occasions including during use. Particles and debris may also break off over time through abrasion or impact in storage. These particles and fragments do not represent an airborne risk.
As a precautionary measure, and in line with the general legal requirement to prevent exposure to asbestos, the gauzes should be disposed of. Any debris in containers or boxes should be carefully cleaned up and also disposed of.
Action advised by the HSE
The suppliers have been asked to contact their customers.
Schools have been told to adopt a precautionary approach as gauzes containing asbestos cannot be easily distinguished from those that do not.
Do not handle, use or move current stock of wire/mesh gauzes until you have contacted your supplier.
Where asbestos content is confirmed or cannot be ruled out, the gauzes must be taken out of use and disposed of in accordance with relevant published guidance.
Where non-asbestos-containing gauzes are stored directly alongside asbestos-containing gauzes, these should be treated as contaminated waste.
Other equipment (such as clay triangles, Bunsen burners etc) which has been stored with asbestos-containing gauzes can be wiped clean with a damp cloth if there is any visible dust present. The cloth should be disposed of as contaminated waste.
Further information on disposal can be found on the HSE website.
If you are unsure of disposal requirements or need assistance please get in touch. If you are a Health and Safety customer with FusionHR, then our Health and Safety specialists will be in touch promptly.
The HSE advise that for future purchases all suppliers are asked to provide a valid UKAS test certificate.
Sources:
https://news.sky.com/story/asbestos-found-in-school-science-lab-equipment-11492785
http://www.hse.gov.uk/asbestos/wire-gauzes.htm?utm_source=hse.gov.uk&utm_medium=referrals&utm_campaign=asbestos-bunsen-burners&utm_term=home-page-news&utm_content=advice