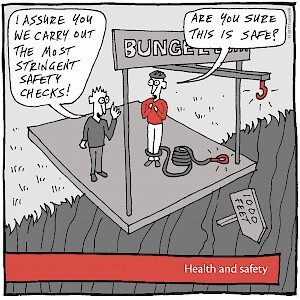 The Health and Safety Executive (HSE) has regrettably had to issue itself with its first Crown Censure after a laboratory worker was left with serious burns.
During the testing of a prototype hydrogen storage vessel back in October 2016, a connector failed and hydrogen gas escaped under pressure and ignited causing serious burns. After investigation, it was found that the HSE needed a process for work testing and leak testing, including using a test tank to ensure safety. A Crown Improvement Notice was issued and accepted by HSE. It mentioned failings to plan, manage and control the risk and concluded that the incident could have been prevented had the HSE research team at the testing facility followed the regulator's own longstanding guidance.
Richard Judge said "As chief executive of HSE, and on behalf of my colleagues on the Management Board and the HSE Board, I very much regret this incident happened, and especially that our colleague was injured. On this occasion, we did not meet the standards we expect of others and that is deeply disappointing. HSE accepts the Crown Censure." – http://press.hse.gov.uk/2017/hse-issued-with-crown-censure-over-worker-injury/
HSE's admission means it accepted it had breached its duty under section 2 of the Health and Safety at Work Act 1974. As a government body, the UK regulator cannot face prosecution in the same way as private or commercial organisations. A Crown Censure is the maximum sanction a government body can receive. Although no financial penalty can be imposed on the HSE, once a Crown Censure has been accepted, it is an official record of the governmental body's failure to meet the standards set out in law.
The main issue was the failure to plan for the testing incident and take precautions. It reinforces the importance of Risk Assessments across your organisation. If you need any help carrying out Risk Assessments or training staff on the correct procedures please get in touch. We have training courses which specifically look at how to conduct a Risk Assessment and identify hazards. If you would like to book a place, contact us at training@fusionbusiness.org.uk or call 01924 827869.