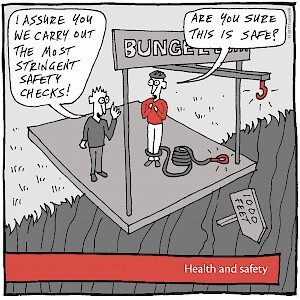 Back in 2014 a twelve-year-old schoolboy suffered a serious hand injury leading to amputation of the finger during a design and technology class. The Health and Safety Executive brought charges against Islington Borough Council for inadequate training and management of risks. At the end of last month, the council were fined £200,000 and ordered to pay full costs of £19,865.
The incident occurred in a design and technology class where students were making animal shapes using hand saws and a belt sanding machine. The schoolboy had not used the machine before and was shown how to use it by a fellow pupil. Unfortunately, neither knew the purpose of the metal guard and therefore it was left in a raised position. When the boy used the machine the guard fell down and trapped his hand. The schoolboy had to have his middle finger amputated down to the knuckle.
The Health and Safety Executive (HSE) told Southwark Crown Court that the teacher in charge of the class had not received adequate training. They were not able to recognise that the machine was in an unsafe condition or recognise the risk of allowing pupils to use the machinery unsupervised and without suitable training. The teacher was also supervising the class alone on the day of the accident due to the absence of a technician for 8 weeks prior to the accident. The Court found that the Council, as the employer, were in breach of Section 3 of the Health and Safety at Work Act.
Section 3 of the Health and Safety at Work Act places a duty on employers and the self-employed to protect people other than their employees, in this case the students. The HSE outlined their commitment to enforcing section 3 in their recent strategy document.
If you need help with Health & Safety Audits, training or Risk Assessments please speak to your HR Advisor or one of our friendly team on 01924 827869 who will be happy to help.