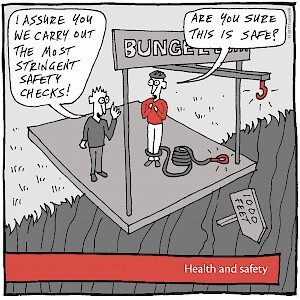 It is important to understand everyone's responsibilities for Health and Safety throughout the organisation. Here are our recommendations:
Take reasonable care for the Health and Safety of themselves, and others who may be affected by their acts or omissions at work.
Co-operate with management with regard to agreed Health and Safety arrangements and procedures.
Know and keep to the rules and procedures relating to their work and report to their immediate supervisor all difficulties or hazards liable to endanger themselves or other persons.
Not interfere with, or misuse, anything provided by the employer in the interest of health, safety and welfare.
If involved in an accident resulting in, or which may have resulted in, injury report the details to the Headteacher as soon as possible, and in all cases before the end of the day on which the incident occurred.
Use equipment only when authorised and properly trained to do so.
Fully familiarise themselves with the School Health and Safety policies and associated procedures, seeking clarification from line managers where necessary.
Report any defects in plant or equipment to their line management.
Notify a member of their line management (or if not available another appropriate person) of any work situation having the potential for serious and imminent danger to Health and Safety.
Notify their line manager of any matters / shortcomings relating to existing practices, procedures or protective measures which might give rise to risks to Health and Safety.
Wear protective clothing and safety equipment as required, reporting any defect to their line management.
Suggest possible amendments to existing practices or procedures which could improve Health and Safety.
Set a personal example at all times.
If you need help with any aspect of Health and Safety, please get in touch. Our specialists can provide onsite or independent training as needed including Working at Heights, Health and Safety in a Nutshell and Manual Handling. Our team can also help review policies or carry out risk assessments and audits. Just give one of the team a call on 01924 827869. Health and Safety support is available as an annual SLA or standard/pay-as-you-go service.