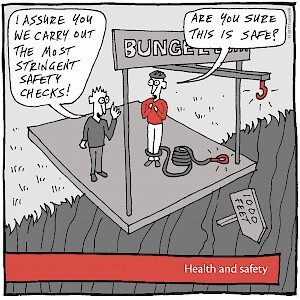 It is important to understand everyone's responsibilities for Health and Safety throughout the school. We will be looking at the responsibilities of different roles including teachers, headteachers, senior leaders and, in this article, the Governing Body.
The Governing Body is responsible for ensuring that the Health & Safety Policy enables the School to fulfil its legal duties. The members of your Governing Body will monitor conditions and the health and safety performance to determine whether the policy is adequately resourced, effective and is being developed to meet changing requirements.
They must:
Keep themselves appraised of changes in Health & Safety legislation. So consider whether your Governing Body has the necessary training.
Ensure that systems are in place to review and up-date this Policy annually, when major staffing changes occur, or when new equipment is introduced. How often do you review your policy, do you need help reviewing it?
Ensure sufficient arrangements, facilities and finances are available for fully implementing this Policy.
Take all measures to ensure that the premises are safe for everyone.
Ensure they consider and address any potential health and safety implications of all their decisions before they are taken.
Lead by example in all matters relating to Health & Safety.
Ensure suitable people are appointed to implement this Policy on a day to day basis and that all employees with specific responsibilities for Health & Safety are competent to carry out the role and will be given sufficient time and resources. Do any of the staff need Health and Safety training? Do they have the knowledge needed?
Receive and consider the School's annual report on Health and Safety performance against set objectives. Have you set your objectives? When was the last time the report was reviewed?
Undertake an appropriate level of health and safety training relevant to their position. If you need help with this point we offer a range of onsite or independent Health and Safety training specifically for schools.
If you need help with any aspect of Health and Safety, please get in touch. Our specialists can provide onsite or independent training as needed including Working at Heights, Health and Safety in a Nutshell and Manual Handling. Our team can also help review policies or carry out risk assessments and audits. Just give one of the team a call on 01924 827869. Health and Safety support is available as an annual SLA or standard/pay-as-you-go service.