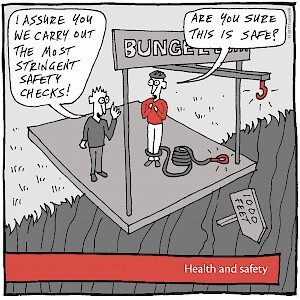 A company has been fined after an employee died following a fall through a skylight.
The unfortunate incident occurred when an employee, who was working with a colleague, was re-siting a heater and new chimney flue on the roof. The employee suffered severe injuries and died from these injuries around 6 months later.
The HSE investigation found that the work at height had not been "appropriately planned, supervised or carried out in a safe manner".
Leicester Crown Court fined IKO-Design Ltd of Parker Drive, Leicester £100,000 and ordered them to pay costs of £35,000 after they pleaded guilty to breaching Regulation 4 and Regulation 9(2) of the Work at Height Regulations 2005.
HSE advised that, had risks been identified, the tragic incident may have been avoided. Even if the work is of a short duration, a risk assessment should be carried out and controls put in place. Any employee who is working at heights should also be properly trained. If you need any help with Risk Assessments, Working at Heights training or support in terms of Health and Safety, please get in touch with the team on 01924 827869.
Source: http://press.hse.gov.uk/2018/company-fined-after-worker-falls-from-height-2/