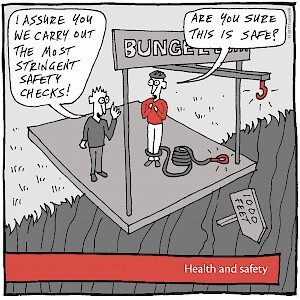 There has been a series of health and safety cases where companies have failed to adhere to health and safety requirements resulting in falls and posing serious risks to themselves, their employees and the public.
A construction company were sentenced on the 23rd April 2018 after one of their workers suffered serious injuries after falling from a height.
A 61-year-old worker fell from the first floor of Sandal Endowed Primary School in Wakefield after being asked to remove fall bags. As the bags were too bulky to fit safely down the stairs, the worker instead threw them over the edge. One of the bags became caught on the edge protection resulting in both the edge protection and the worker being taken over the edge. The employee fell and landed on an unprotected end of a scaffolding pole resulting in broken ribs and internal injuries and later removal of part of his bowel due to an infection.
A Health and Safety Executive (HSE) investigation found that George Hurst & Sons Ltd, failed to implement the British Standard for edge protection. The company pleaded guilty to breaching Section 2(1) of the Health and Safety at Work Act 1974 and as the company have gone into administration, they have been fined £1.
After the hearing, Yolande Burns said, "this accident would not have happened if the standard had been met. The breaches were ongoing for a period of time and many other employees were exposed to the risk of falling over the edge of the building. Falls from height remain one of the most common causes of work related injuries in this country and the risks associated with working at height are well known".
Similarly, a North Yorkshire company have been fined after one of their contractors fell from height and suffered a serious injury. The worker was installing a flue for a biomass heating system at a farm. He was using a ladder at the side of the outbuilding, however this proved ineffective and so instead climbed onto the roof to complete the work. The worker fell around 2 meters through fragile cement sheet suffering from injuries including broken bones in the left ankle.
A HSE investigation found that the company had failed to provide adequate equipment including edge protection, scaffolding and a roof ladder. Furthermore, they had failed to satisfactorily plan the installation of the heating system and the necessary work at height. Duncan Plumbing Heating and Electrics Ltd pleaded guilty to the same breaches as George Hurst & Sons Ltd, resulting in fines of £32,000 and ordered to pay costs of £2,424.60.
In a similar case, Greater Manchester Magistrates' Court heard how Michael Roden, who also trades as M&R Roofing and Onyx Roofing failed to implement any form of edge protection or scaffolding whilst roofing work was carried out and did not have employers' liability compulsory insurance. Michael Roden had previously been served with two prohibition notices on two separate occasions, however he continued to work without appropriate equipment, putting both himself, his employees and the public at risk.
Mr Roden pleaded guilty to breaching multiple Work at Height Regulations as well as the Employers' Liability Act 1960. He was sentenced to six months imprisonment suspended for two years, 240 hours community service and ordered to pay costs of £4,600.
In order to prevent similar cases occurring in the future, risk assessments should be carried out and acted upon promptly at all working environments. Health and safety advice should be sought to ensure that the necessary measures are put in place, as well as ensuring that employees have received sufficient relevant training.
If you need help with training come along to our Health and Safety in a Nutshell training on 5th February 2019 in Leeds and understand your main requirements for health and safety. To find out more information, please follow this link
If you have any queries regarding our training workshop, health and safety in your workplace, risk assessments or working at heights, then please do not hesitate to get in touch with one of the team on 01924 827869.
References:
http://press.hse.gov.uk/2018/datatextmce-internalworker-suffers-severe-injuries-after-a-fall-from-height/