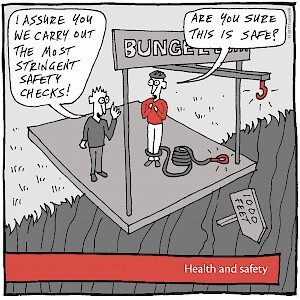 In a recent unfortunate case a 5-year-old was injured on a rollercoaster ride at Lightwater Valley Theme Park. The park owners were fined but it is the ruling around the risk assessment which is important to note.
The young girl's leg had become trapped as the ride came to a halt. She suffered ligament and nerve damage as her foot was caught between the platform and the carriage.
After a full investigation, the HSE decided that the contractor who was employed by Lightwater Valley to carrry out a Risk Assessment was in breach of regulations due to his failure to adequately identify the risk of entrapment on the rollercoaster.
York Crown Court ruled that both the owners and the contractor had breached regulations stated in the Health and Safety at Work Act 1974 and fined both parties.
Lightwater Valley owners pleaded guilty to breaching Section 3(1) and were fined £40,000 with additional costs of £17,000 to be paid. The individual who had been contracted to carry out the risk assessment was also found guilty of breaching section 3(2) and was fined £7,500 with costs of £2,500.
Section 3 of the Health and Safety at Work Act 1974 places general duties on employers and the self-employed towards people other than their employees. According to the HSE, for section 3 to apply:
there must be a duty-holder – either an employer or a self-employed person, and
there must be a risk to the health or safety of a person who is not the employee of the duty holder or the self-employed duty holder themselves, and
that risk must arise from the conduct of the duty holder's undertaking. An 'undertaking' means 'enterprise' or 'business'. NB Whether a particular activity is part of the conduct of the undertaking is determined by the facts of each case [R v Associated Octel Co Ltd (1996) 4 All E R 846]. Although not decisive in every case, whether the duty-holder can exercise control over both the conditions of work and where the activity takes place is very important.
If you need help carrying out Risk Assessments please get in touch. We can provide adhoc assessments and assessments as part of our annual Health & Safety support package. Call one of the team on 01924 827869.