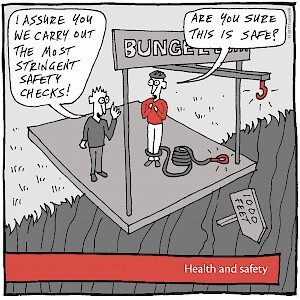 There have been quite a few Health and Safety cases recently that give guidance useful to schools, so we thought we would pool together the information for you in one place. If you have any questions or need Health and Safety advice, please get in touch.
Legionella
A car parts manufacturer was recently fined for failing to effectively manage its water cooling systems. Legionella bacteria grew to lethal levels in the water and five people fell seriously ill. Faltec Europe Limited pleaded guilty to breaches of Section 2 (1) and 3 (1) of the Health and Safety at Work Act 1974 (HSWA) and were fined £800,000. Ensuring air conditioning units and other water systems including swimming pools, are regularly maintained is part of health and safety obligations.
External Contractors
Dealing with external contractors is difficult and you have to trust in their ability to carry out work safely. Recently, a case in Basildon saw a construction company fined for failure to appropriately supervise and effectively monitor equipment which resulted in injury of an employee. A machine was left running and failure of a handbrake caused it to lurch forward trapping the employee. This occurred while working onsite at a school, excavating groundworks. The Court fined the company £23,000 and ordered that costs be paid of £5220.65.
In a second instance, a bridge was being demolished at Littleborough Primary School in Rochdale. The demolition company had bought in an additional contractor to erect and remove scaffolding around the site. During the final part, an employee of the Scaffolding company was hit by a concrete panel and suffered a broken right shoulder, five broken ribs, three fractures to the spine, a punctured lung and a broken left foot. An investigation by the Health and Safety Executive (HSE) found the work was not suitably planned and the stability of the panel was not appropriately considered when removing the scaffolding. Vale Park Demolition Services Limited of Crumpsall, Manchester pleaded guilty to breaching Section 3 (1) of the Health and Safety at Work Act 1974 and were fined £4,000
Make sure you have reviewed the contractors' health and safety compliance as part of your contract with them and complete risk assessments for any work being carried out onsite.
Historic cases of occupational health issues
This case related to a design and manufacturing company where an employee was carrying out soldering works and developed occupational asthma. At the time of his employment in 1975, there was no extraction system in place for possible fumes. When one was put in place, 15 to 20 years later, it turned out to act as a disperser rather than an extractor. The HSE found that this was due to inadequate control measures to contain the work and the potential fumes.
Bayham Limited of Basingstoke, pleaded guilty to breaching Regulation 7 (1) Control of Substances Hazardous to Health (amended) Regulations 2002 and were fined £12,000 and ordered to pay costs of £6385:32.
Making sure you are completing risk assessments, including any potential exposure to fumes, dust or other hazardous materials is essential. If you are not sure of the guidelines around the control of substances or the preventative measures you need to take, please speak to us about training opportunities available. Occupational health issues can be bought after a length of time, so it is also important to keep records of maintenance.
Working at Heights
There is specific guidance that needs to be followed when any work is carried out at height. A case heard at Leeds Magistrates' Court concerned an employee installing solar panels onto a roof in Brighouse. The employee had slipped and the edge protection had snapped. He suffered severe injuries preventing him from working due to mobility issues. The HSE investigation stated that the scaffolding had not been erected to an industry know standard or design and effective measures had not been put in place to allow for fragile lights on the roof surface. In this case the court fined both the scaffolding company, Oswestry Shropshire Scaffold Ltd, and the employer, Centreco (UK) Ltd of Chorley. They were fined £28,800 and £33,500 respectively plus costs. Ensuring you have the right precautions and training in place for anyone who works at heights on your premises is essential. Specific training for working at heights is available.
If you need help with Health and Safety support bespoke to schools and multi-academy trusts, just give one of our team a call on 01924 827869. We also have a range of health and safety training to help educate your team, take a look at our latest courses.